The Originals (1976)
Posts: 371
Joined: Sun Nov 27, 2005 4:58 pm
Location: near Birmingham, Nokisstourland (formely England)
Our very own Eric Carr would have celebrated his 62nd birthday today.
Sadly missed and never forgotten.
Happy Birthday Eric
Give Me Measures Of Pleasure And Pain, Boiling The Blood In My Veins
---
Alive II (1977)
Posts: 637
Joined: Fri Jul 16, 2010 3:37 pm
Location: North Wales
R.I.P. Eric
High Priest of Kisstianity.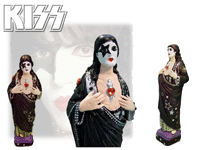 ---
Happy Birthday Eric.
Pete
---
Double Platinum (1978)
Posts: 1155
Joined: Fri Apr 08, 2011 7:58 am
Location: The Mariana Trench
It seems only yesterday ,doesn't it? Happy Birthday...
R.I.P.
Last edited by
madmark
on Thu Jul 12, 2012 2:59 pm, edited 1 time in total.
Ziggy played guitar...or was it Ronson?
---
Happy Birthday Eric wherever you are.
Playing Carr Jam 1981 while im typing this.
R.I.P Eric.
---
Dynasty (1979)
Posts: 2689
Joined: Sat Apr 12, 2008 5:02 pm
Location: Lurking somewhere in the back of my mind...
Wow, 62 you say?

Well Happy Birthday Eric Carr.

Still my fav drummer and still missed.
ACK!...It's Rock 'n' Roll!!
---
Peter Criss (1978)
Posts: 2015
Joined: Fri Dec 02, 2005 12:05 am
Location: Walsall, West Of The Midlands! Official KISS ARMY Member #1010 XBox Live: Oh4Q
God Bless The Fox
Danger You, Danger Me, Danger Mouse!
Shock Me - Put on your black SWEATER!
---
Ace Frehley (1978)
Posts: 1609
Joined: Sat May 31, 2008 6:07 pm
Location: southern twot
Contact:
---
KISS (1974)
Posts: 45
Joined: Sat Jun 04, 2011 7:38 pm
Happy Birthday Eric,

Easily My favourite drummer,
---
R.I.P
A true legend.
(only my opinion,in no way am i insulting you....statement copyright of plugtwot)
---
Killers (1982)
Posts: 4160
Joined: Sat Apr 12, 2008 5:33 pm
Location: Wolverhampton "You are the rock'n'roll capital of the World!"
Contact:
A man who died before knowing the horror of the kiss monster book...
Happy Birthday to the Fox!
feel free to feel offended, cyber-bullied, put out, outside of the
clique
, side-lined, marginalised or just generally have the piss taken out of. However it's a
JOKE!
-Nick's Mirth World!
---
Dressed To Kill (1975)
Posts: 148
Joined: Sun Oct 02, 2005 10:36 pm
Location: South Yorkshire
Having my birthday the day after and Eric being my favorite drummer makes it a sad start to the weekend
Happy birthday Fox very much missed RIP
---
Would've been 65 today.

R.I.P

Still wish I'd been able to see him perform live.
Pete
---
---
Who is online
Users browsing this forum: Bing [Bot], Google [Bot] and 11 guests